THE Co-N BOND CLEAVAGE IN THE ADENOSYNCOBALAMIN COFACTOR IN ADVANCE TO GLUTAMATE MUTASE AND METHYLMALONYL-CoA MUTASE PROCESSES
Author(s):
Tudor Spataru

Field: Physical chemistry and chemical physics
Type: Research paper
Pages: 9

Keywords:
glutamate mutase, methylmalonyl-CoA mutase, adenosylcobalamin cofactor, vitamin B12, Pseudo-Jahn-Teller effect.
Full Text (PDF):
Download
http://doi.org/10.19261/cjm.2023.1087
Graphical Abstract:
The Pseudo-Jahn-Teller-Effect governs the glutamate mutase and methylmalonate-CoA mutase preliminary step and provides insight into particular details of in vivo C-N bond cleavage reactions of the adenosylcobalamin cofactor. Multi-configurational self-consistent field (MCSCF) calculations show that the preliminary step reaction glutamate mutase and methylmalonate-CoA mutase processes occur in the absence of total energy barriers.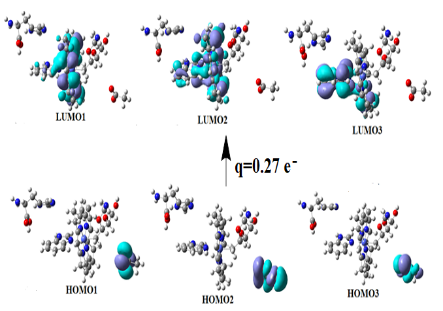 Downloads:
4